WASHINGTON, April 23—Confidence among U.S. construction industry leaders plummeted in February due to expectations of the economic fallout associated with COVID-19, according to the Associated Builders and Contractors Construction Confidence Index released today. Readings for sales, profit margins and staffing levels expectations fell below the threshold of 50 for the first time in the history of the series, signaling expected contraction along all three dimensions.
As of February 2020, fewer than 30% of contractors expected their sales to increase over the next six months, while less than 20% of contractors expected their profit margins to increase. More than one in five contractors expect a significant decrease in profit margins, while one in four expect a significant decline in sales volumes.
The CCI for sales expectations decreased from 68.3 to 38.1 in February.
The CCI for profit margin expectations decreased from 61.9 to 36.6.
The CCI for staffing levels decreased from 69 to 45.2.
"In the course of a month, construction industry confidence has shifted from ecstatic to utterly dismayed," said ABC Chief Economist Anirban Basu. "If anything, confidence is likely to decline further as construction industry leaders come to terms with the full extent of the COVID-19 crisis. The finances of key sources of demand for construction services, including commercial real estate investment trusts, state and local governments, retailers and hoteliers, have been savaged by the crisis, translating into fewer funds available to finance construction.
"Normally, construction activity is partially shielded from the initial stages of downturn due to the presence of backlog, which stood at 8.2 months as of February 2020," said Basu. "But this time is at least somewhat different, with certain construction activities halted in California, Pennsylvania, Massachusetts and elsewhere. While construction will hold up better in the near-term than retail, restaurants, airlines, auto manufacturing, lodging and a number of other key industries, its recovery is also likely to be less profound than in these other segments absent a federal infrastructure-oriented stimulus package."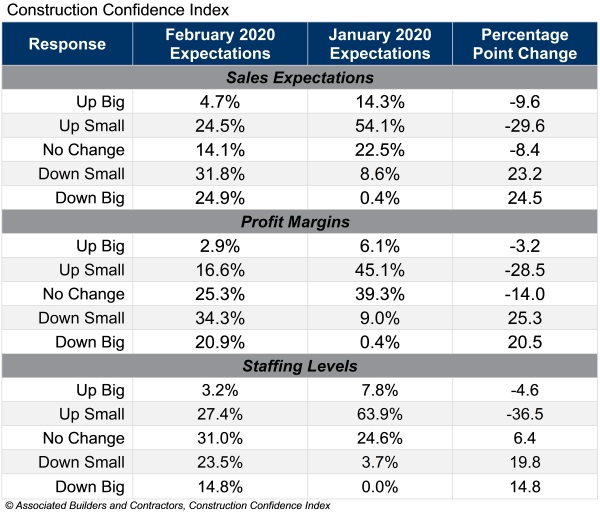 CCI is a diffusion index. Readings above 50 indicate growth, while readings below 50 are unfavorable.
Click here for historical CCI and Construction Backlog Indicator data. CCI methodology can be found here.